Coverage
Flitwick Taxis is a Taxi operator based in Ampthill, Bedfordshire.
Taxi Services in Central Bedfordshire
In addition to Ampthill, Flitwick Taxis also provides Taxi services to, from and within surrounding towns, districts and villages in Central Bedfordshire, including Flitwick, Cranfield, Clophill and many more.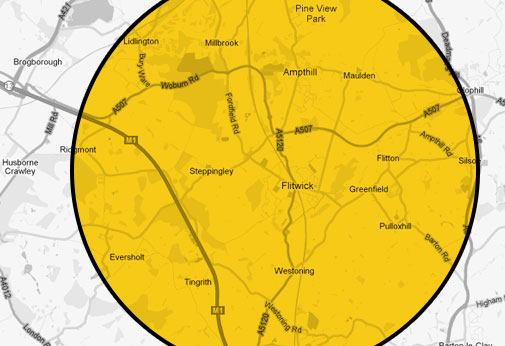 Taxi Service to Airports, Railway Stations & Places of Interest around Ampthill
Outside the area shown on the local map of Central Bedfordshire above, Flitwick Taxis provides taxis for journeys to UK airports including London Heathrow, London Gatwick and London City Airport LCY. Of course we also serve railway stations including Luton, Kings Cross and Euston.
Flitwick Taxis are also the ideal choice for journeys To and From significant local venues and places of special interest, including Cranfield University, Xscape (Milton Keynes) and Milton Keynes Shopping Centre.
Local Taxi Fare Prices in Central Bedfordshire
For a guide to our Fare Prices, please use our Prices and Booking Calculator or contact our office on 01525 405060.